This is USS Zumwalt…
Just launched at a cost of umpty billions. Now I know aeroplanes and bugger all about ships but does that not look rather similar to a US Civil War ironclad to you? Like this…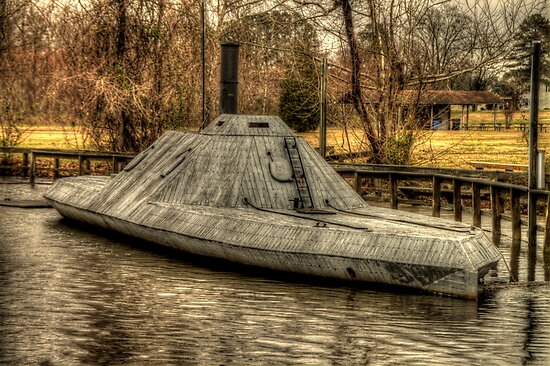 The Zumwalt class is designed to have the radar sig of a fishing smack. I guess you might get much the same from the CSS Albermarle not, obviously, that it was an issue at the time. It is possible (and the USN has been ickling on about railguns for some time and a planning sea trials in 2016 which is when the Zumwalt is due to enter service. So clearly looks may deceive and it might look the same but be bigger on the inside so to speak.)
So… It's kinda odd but for completely different reasons the naval architects have gone back to the future. Either that or the Confederacy had some unknown naval genius beavering away and designing a low radar-return ship almost a century before radar.
But, and this is a biggy for me. Now it might sound nit-picking but how the heck is that a destroyer? It displaces 15,000 tons, it is 610ft long. That is a cruiser at least. Surely. Is this some bizarre ruse to get the funding past Congress? Because the Zumwalt class is essentially designed as a 1-1 replacement for the Iowa class battleships.
That is a broadside from an Iowa class (Actually BB61 USS Iowa). Those are 16″ guns. Who needs railguns when you can hurl a shell the mass of a VW for a couple of dozen miles. I'd be much more impressed by railguns on the Zumwalt if it was nuclear powered and therefore had practically unlimited electricity. Hell's teeth I'd be going for a fully nuclear navy! No need for oilers and fill 'er up every 25 years! You'd buy a car that did that. Especially if it had a railgun. It has to be noted though that we won the Cold War partly (thank you Ronnie!) with recommissioned Iowa class battleships and the off-key caterwauling of skanty-clad songstresses. I dunno which scared the Kremlin most. But they are very big guns indeed and Cher is wearing very little indeed. That was the '80s and that is how we won. Hard and soft pressure. Ronnie and MTV – an unstoppable alliance.
I mean can you imagine how dull communism must have been?
Yeah, and inevitably here's the video…
http://www.youtube.com/watch?v=5G4O5AMSevc
Yeah, I liked the '80s. We seemed to be going somewhere and that dear reader is a guilty pleasure from the era. But that's one hell of a ship whatever you think of Cher.
And if we had another Ronnie then Vlad would be hiding under a table in the Kremlin with stained trews. And if we could take out Comrade Kim and the Ayatollahs and dear old Bob and… I can dream. But that video speaks to me of serious belief in our moral, social, military and economic might. We believed it then. That is why I liked the '80s.
PS. The Iowa class were designed to be Panamax. They had 18″ wiggle room so never again complain about parking in TESCO.
PPS. This has been edited by moi. This fecking Toshiba is at the very end of the tether.