It is a winter wonderland outside my window in Cheshire. Apparently so it is in parts of Saudi Arabia. This is rather unusual there…
Here's a picture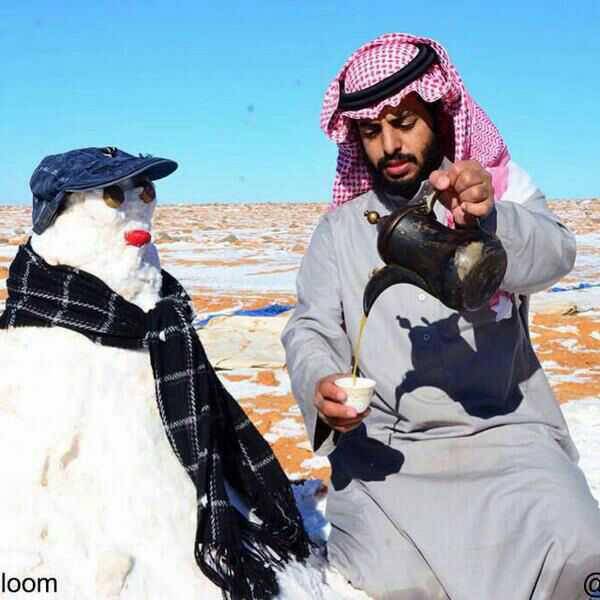 You see how unusual this is? No Brit or Canuck or Swede etc would give their snow personage a hot coffee. So are the Saudis all enjoying the novelty of snow? Yes and indeed no.
There has been a terrible moral outrage about building snowmen (and indeed snow camels – Allah knows about snow-women with snow tits and icicle nipples) and at least one imam has got his pantyhose in a twizzle…
But with photos of snowpeople and snow camels popping up everywhere, Munajjid made it clear that Islamic teachings strictly prohibit the practice.

Asked whether the unusually snowy winter in Saudi Arabia meant that parents could build snowmen with their children, Munajjid delivered the bad news.

"It is not permitted to make a statue out of snow, even by way of play and fun," Munajjid wrote on his Web site, according to Reuters.
He is also available for children's parties. I hear his, "Death to all Zionazi Imperialists" act is a side-splitter (possibly literally).
***
"We have snow for fleeting days, maybe even hours, and there is always someone who wants to rob us of the joy and the fun," wrote a blogger identified by Gulf News as Mishaal. "It seems that the only thing left for us is to sit down and drink coffee."
***
But Munajjid has his supporters.

"It [building snowmen] is imitating the infidels, it promotes lustiness and eroticism," wrote one person, according to Reuters.
I don't know where to start…
The first point is to acknowledge this is not a "funny". Oh, it is easy to laugh. But depriving folk of "play" and "fun" (and how often does a significant snowfall happen in Saudia Arabia?) is horrendous. What is humanity without play and fun? The imam also mentions the creation of images of critters (recall the snow-camels of horror?)
I will tell you what such a life is like. It is Hell on Earth. It is also a complete technological stagnation. I love the society (imperfect though it is) but whist I find in this day and age opposition to gay marriage (say) a bit odd I find opposition to building snow-crits is so far beyond belief as to defy… Well, I dunno but it is but it defies it. Building a snowman is the most innocent thing imaginable (and if we get a bit more snow I'll build one myself and send a selfie to this "cleric".)
And it matters. It really does. The more absurd a cultural argument is then in a very real way the more it matters. And not least if it is taken as ridiculous. "Imitating the infidels"? By building a fucking snowman? You wait until said cleric gets the selfie of me drinking single-malt whilst being bummed by a ladyboy who is smoking crack. I mean if building a fucking snowman is strictly verboten why not go the whole hog?
I have to add I have never had dirty thoughts in front of a snow-person – but then you knew that. "Mr NickM was apprehended for a public-order offence at 11-45am whilst he attempted to…". Gods sakes! Mr Frosty was unavailable to comment but a puddle shall appear in Stockport Magistrates Court.
I though do hate the cultural shuttering. Some think this attempt at cultural monolithism is a strength of the Islamists and they couldn't be more wrong. Ludicrous defence is a sign of weakness.
Banning fun is ultimately self-defeating.
The best snowman I ever built was as a kid and it was when I was a kid. My brother and me built a huge effigy of a Franz-Ferdinand (one of the Holy Roman Emperors) in the back garden. I have no idea why but it was fun. Which was the point.
H/T Dick
PS the imam also regards gingerbread men as evil.