Free Speech
This is arguably one of the more bizarre stories I have read. Ever.
A small Jewish ultra-Orthodox newspaper in Israel has found itself in the spotlight after digitally removing Germany's Chancellor Angela Merkel from a photo of this week's Paris march.

World leaders had linked arms to march in Paris against terrorism after Islamic extremists killed 17 people. At the march, Merkel stood in the front row between the French president, François Hollande, and Palestinian president, Mahmoud Abbas.

But readers of the Hamevaser newspaper's Monday edition didn't know, as she had been digitally removed, leaving Abbas standing next to Hollande. Israeli media joked it was meant to bring Abbas closer to Israeli premier Binyamin Netanyahu, who was standing nearby.
And why? Why? because of XX-phobia. Seriously. They also took-out the EU foreign affairs supremo and the Mayor of Paris.
Within the insular ultra-Orthodox community, pictures of women are rarely shown, due to modesty concerns. In Jerusalem, ultra-Orthodox vandals frequently deface buses and billboards with advertising deemed to be immodest.
Now if Chancellor Merkel had been strutting her stuff in a sling-shot bikini and heels and nowt else then OK but this is the original photo…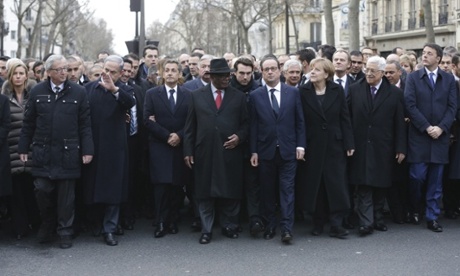 Now I'm no fashionista but that is a modestly dressed woman. And she is also the German Chancellor so she ought to be there. God knows what Abbas was doing there but France and Germany are best buddies these days (thanks for small mercis – I mean we don't want to go through all of that yet again).
Binyamin Lipkin, editor of Hamevaser, said the newspaper is a family publication that must be suitable for all audiences, including young children.

"The eight-year-old can't see what I don't want him to see," he told Israel's Channel 10 television station. "True, a picture of Angela Merkel should not ruin the child, but if I draw a line, I have to put it there from the bottom all the way to the top."

He also said he did not want to tarnish the memories of the people killed in the attacks.

"Including a picture of a woman into something so sacred, as far as we are concerned, it can desecrate the memory of the martyrs and not the other way around," he said.
I am lost. There is no way anyone could take that image as sexually provocative (I assume that was this loon's point). I mean it ain't Miley Cyrus. And in terms of the "family paper" schtick don't families tend to have female members? Call me old-fashioned but I female relatives. I don't think that unusual. And what the flying hellskis is the desecration stuff about? These people weren't martyrs. They were just unlucky by and large. Could have been me, could have been you. This site has republished the Motoons of Doom. And in what way Chancellor Merkel takes away from the loss is beyond me. Also one of the dead was a female French cop. If anyone was a martyr she was dying in the line and all.
But this is only sort of about sexism. I mean it is but there is more. The massacre was about freedom of the press and an Israeli paper chooses to Photoshop inconvenient truths like the sex of the German Chancellor out. OK, fine print what you want but don't doctor photos and then go on about martyrs for press freedom.
Or is it just plain sexism and they object to a female heading a major nation? Is it that simple? Get over it. We did with Maggie when I was a little kid.
What century are these folk in? I mean really? Moshe Dayan fought for this?
PS. And as someone from a culturally Christian background the idea that an image of a woman is a desecration is just weird.
The often attacked British press is, in reality, one of the glories of this country. In the United States the normal pattern is for there to be a single dominate newspaper in a town or city and for it to reflect the "liberal" left ideology of the education system (the "Schools of Journalism" and so on) – with, by and large, the only choices being to read the leftist line, presented as "objective, scientific, journalism" or read no newspaper. There is the New York Post, which gives an alternative view of New York and other matters, and the financial and business newspaper the Wall Street Journal (both owned by Rupert Murdoch – which is why the totalitarian left hate him, as he is basically all that stands in their way of gaining a leftist monopoly in the press), but there is little other dissent. Just as on television basically the only dissent from the leftist line is "Fox News" (also owned by Mr Murdoch) with all other television stations reflecting the leftist line.
In the United Kingdom things are very different. There are many newspapers on the left – such as the "I" and the "Independent" and the "Guardian" and the "Daily Mirror" and the "Financial Times" (anyone who thinks a financial and business newspaper can not be on the left has never met the "FT"), but there are also many newspapers on the "right" (in the conservative or old style liberal sense – not the socialist Fascist sense) – such as the "Daily Telegraph", the "Express", the "Daily Mail" and the "Sun". However, annoying the press may be at times this diversity in the press is one of the glories of this country and people who hate it are like people who hate the Queen or Winston Churchill – they really hate Britain.
The left, at least the totalitarian left, seek constantly to destroy the free press in the United Kingdom. For example with the financial backing of, son of Fascist leader Sir Oswald Mosley, Max Mosley (who won a libel case against being accused of being involved in a Nazi themed prostitute event – although he was involved in a Nazi themed prostitute event, work-that-one-out), the left ran a campaign against the newspapers. The left also used a claim in the Guardian newspaper that employees of the Sun newspaper had deleted messages on a murdered girl's mobile telephone (a claim that turned out to be FALSE – they did "hack" the telephone, in the hope of getting information that would help them crack the case, but they did NOT delete any messages) to get Prime Minister Cameron's government to impose some censorship on the press. "Hacking" mobile telephones was already illegal (and was done at least as much by Daily Mirror people as by Sun people – but the left does not care about that), and the new censorship rules will not make "hacking" any more illegal – but the left's objective is censorship, the case of the murdered little girl was just a means-to-an-end to the totalitarian left. And Mr Cameron went along with some of what they wanted (partly because he was embarrassed at employing a person who had once been involved in telephone "hacking" himself) – and he should be ashamed of that.
It should be pointed out that the "Sun" and the, now closed down,"News of the World" are-were Rupert Murdoch newspapers. The leftist campaign against them was nothing to do with them "hacking" telephones more than the leftist "Daily Mirror" people did (they did not "hack" more than Daily Mirror people did) – it was a way of attacking Mr Murdoch, whom (as I have already pointed out) the left see as the main barrier in their way of creating a leftist monopoly in the media of the United States – yes the campaign in Britain was really, in part, about the United States.
However, evil never sleeps and the left have moved on. Far left activist groups have now pushed the management of Waitrose and Tesco supermarkets to physically cover up newspapers.
What exactly has the Tesco chain of supermarkets agreed to do? They have agreed to cover up all but the titles of newspapers that are on sale. The totalitarian leftist activist groups have claimed this will "protect" children (it is always "the children") from seeing bare breasts. However, women with no tops on are a tradition of page THREE of the Sun newspaper – not the front page, there are no bare breasts on the front page (although there are bare breasts on show in art galleries – no doubt the totalitarian left will now try and get paintings and statues banned, at least if "the children" are their real concern……..).
The cat is let out of the bag by the boasts from the totalitarian left of getting "offensive" headlines covered up – not "just" photographs, HEADLINES.
This makes it clear what this campaign is really about – it is about suppressing, literally "covering up", any OPINION the left does not like. It is the same sort of thing as the Frankfurt School of Marxism "Political Correctness" or "Critical Theory" that now dominates the education system – turning students into brainwashed zombies who will not tolerate any non "Progressive" opinions.
The evil groups behind the censorship of the press campaign are tiny – organisations such as "Child's Eyes" and "Stop Page Three" have few members, they could not win any elections. But they do not have to enforce their totalitarian desires by winning elections – not when they are dealing with spineless cowards.
Tesco supermarkets, like so many corporations, is a bureaucracy without any real powerful individual share owners any more. The hired managers are responsible to other hired managers (at Pension Funds and so on – institutional share owners) and they basically want a "quiet life" – they have no passion for what they do, and they have no courage, no principles for which they will risk their jobs. Besides they are mostly ex university students – with all the leftist indoctrination (brainwashing) that a modern school and university "education" implies.
These hired managers at Tesco face ruthless leftist fanatics – who are prepared to do anything, anything at all, to enforce their desire for censorship, so the easy thing to do is to SUBMIT. And, besides, with their "educated" background a lot of the managers half agree with the leftist fanatics – with the totalitarian bullyboy (and bullygirl) censors.
It is difficult not to despair.
However, good an 18th century university administrator and judge Sir William Blackstone may have been, and however personally well disposed he may have been to liberty and property, the rights of the latter being the essential foundation for the former, his doctrine of the Sovereignty of Parliament was radically subversive of the principles of liberty – leading, in the short term, to war with the American colonies, and, in the longer term, the undermining of liberty in Britain and elsewhere.
The central "Whig" principle is that there are some things that the ruler or rulers, Kings or Parliaments, may not do – that natural law – natural justice to-each-their-own-liberty, expressed in the Common Law and other traditions, forbids fundamental attacks on liberty and property, either by private criminals or by the government.
This was the position of Chief Justice Sir Edward Coke in "Dr Bonham's case", it was the position of Ralph Cudworth and others against the unlimited government doctrine of Thomas Hobbes (whose mentor was that servant of unlimited government "The New Atlantis" Francis Bacon – the great enemy of Sir Edward Coke) who held that humans were not moral agents, and it was the position of Chief Justice Sir John Holt and the other "Old Whigs" of the Glorious Revolution of 1688.
Sir William Blackstone's doctrine of Parliamentary Sovereignty destroys this Whig foundation stone of liberty – destroys it utterly. Blackstone might pay lip service to the principles of natural law, the legal principles of Cicero and the view of humans as moral agents of Aristotle, but his doctrine of Parliamentary Sovereignty negates them. If the "legislature" can do anything it likes – then liberty is naught, and natural law is just an empty term. Things are reduced to the level of the Roman Empire – where no legal thinker denied, in theory, that liberty and natural law, natural justice – to each his own liberty, existed, but held that positive law, the will of the Emperor, trumped them – which was the same, in practice, as denying that the rights of liberty and property existed at all.
Blackstone may be held up as one of the great Common Law thinkers – but his fundamental conception of law was essentially Roman, and that of the Roman Empire, just with a Parliament in place of an Emperor.
Many Americans, holding to old Whig principles, were profoundly shocked and rejected the principle of Blackstone, and those who held the same view, – but in Britain it carried all before it.
The principle of Blackstone simplified law by holding that, at a fundamental level, law is whatever Parliament and Francis Bacon "lions UNDER the throne" style judges say it is – with no appeal to natural law, natural justice (to each his own – liberty) principles against them.
It also flattered Parliament (Thomas Hobbes had always said that the supreme unlimited ruler could be one person or a group of people – thus hedging his bets in terms of the Civil War by trying to flatter both sides, like Francis Bacon before him, he would be a lickspittle apologist for whoever was in power) – it gave them delusions of grandeur, indeed of infallibility, and made them unwilling to compromise with the American colonists. After all the law was whatever they, Parliament, said it was – they were Gods upon this Earth who could do no wrong. At least that is how his doctrine was, inevitably, interpreted. So war was made inevitable – and with war the division of the English speaking peoples, a division that continues to this day.
The tradition of the Bill of Rights, American or British, runs directly counter to this doctrine of Parliamentary Sovereignty – which is why the British Bill of Rights, oh yes it once existed, is not much talked about any more. What is the point of talking about the right to keep and bear arms – if Parliament can take away this right with a statute? It means that the right, for all practical purposes, is negated. Ditto freedom of speech or anything else. If Parliament wishes to, for example, "redistribute" the property of the Duke of Portland this may be sad – but he has no rights against the "legislature". As Mark Twain was later to say, but not as PRAISE, that "no man's life or property is safe when the legislature is in secession" the legislature being the only true "criminal class" in United States – the fact that British opinion would have been shocked by a statement like this in the 19th century shows how much damage the doctrine of Sir William Blackstone and others had done – spread by Victorian legal writers such as Maitland, who pretended (with breath taking dishonesty) that not a single Act of Parliament in history had ever been fundamentally unjust or irrational.
By the 19th century more and more people were starting to use the words "the State" in the same awe struck way that German philosophers had in the time of Frederick the Great and before. The State seen as some sort of God on Earth, with, in this case Parliament, being seen as at least semi divine – infallible.
Sir William Blackstone may not have shared some of the "new", there are actually ancient precedents for its errors, philosophy that was bubbling up like a witch's brew in his time – but he opened the door for it. David Hume had made his name by being "sceptical" about everything (whether he really was, or whether it was a performance, to wake people from their dogmatic slumbers, is something I will not try to answer here), even the most obvious self evident things such as the existence of the self (the "I") as a moral agent. If nothing was secure, if there were no principles that one could "prove", if even the existence of oneself, as a moral agent free to choose to do otherwise than we do was in doubt, what would step into the chaos? Why the state of course – "the euthanasia of the Constitution" the end of "Whig", Old Whig, principles. This philosophy horrified some Tories – such as Dr Johnson, who expressed his horror when someone said to him that both he and David Hume were Tories. Dr Johnson believed in the principles of Church and King because he believed they were true, objectively true, not because he believed that nothing was objectively true – that is why the Tory Dr Johnson was more of a friend of the Old Whig Edmund Burke than he was of political "allies" such as David Hume.
Jeremy Bentham, and the rest of the "Bowood Circle" of Lord Shelborne (Lord Shelborne, Sir William Petty kinsman of that other Sir William Petty – the friend of Thomas Hobbes, who wanted to mathematically "plan" Ireland in totalitarian fashion) had nothing but contempt for the principles of the Old Whigs – which were "nonsense on stilts".
13 departments of State should control most aspects of life, according to Bentham – in this way the "greatest happiness of the greatest number" would be achieved, and pleasure and pain (not traditional right and wrong) should be the only guides to policy. If wickedness produced more "pleasure" than "pain" then it was not evil it was good – so if, according to Bentham, control of most aspects of life via 13 departments of State produced more pleasure than pain then it was to be done – and no silly "old rights" allowed to stand against it. The interests of "the people" trumped the silly (indeed "nonsense on stilts") old rights of individual persons. The fact that this is a "category mistake" that, for example, one does not work out whether rape or gang rape is morally wrong by sitting down with a "calculator of pleasure and pain" to try and work out if the pleasure of the rapist or rapists was greater or lesser than the pain of the victim, escaped Jeremy Bentham. He made the elementary mistake, which would be shameful even in a young child, of mistaking "good" as in pleasure, with "good" as in moral (as they are the same word they must mean the same thing – NO THEY DO NOT). Just because it may be pleasant to torture someone to death it does not mean that it is morally good to torture someone to death – and this has nothing to do with the pain of the victim being greater than the pleasure of the murderer.
This is the principle of the French Revolution, of Rousseau – not of the Old Whig American Revolution. It is why the French Revolutionaries did not believe that their murdering, plundering, rape and other crimes were crimes at all – as the "welfare of the people" trumped, negated, everything else.
And the belief of Bentham and others in intellectual government administrators taking control of various aspects of Civil Society harks back to Sir William Petty and Francis "The New Atlantis" Bacon, and may even have been foreshadowed by Thomas Cromwell in the reign of Henry VIII – although his schemes, on education and so on, came to naught.
The "liberals" who followed Bentham, there were other factions of liberals of course, included people such as James and John Stuart Mill who endorsed the views on land of David Ricardo, which led to people attacking the rights of property – down with the Duke of Portland and other "Old Whigs" I bet he did not "justly acquire" his property, and he expects rent and rent is evil. This view was refuted by Frank Fetter a century ago, but one still hears it – just as one still hears demands that the state expand the money supply to maintain a "stable price level" as if Frank Fetter had never refuted Irving Fisher (let alone the absurd Lord Keynes).
And there was the Labour Theory of Value, also an interpretation of Ricardo, that holds that factory workers and so on are "exploited" – if private landed estates are, somehow, wrong and large scale non-landed property (factories and so on) are also, somehow, wrong – then the old Whig principles have been utterly destroyed there is nothing left, apart from empty chanting of the words "freedom" and "liberty" (as "liberals" still do today) based on no foundations, philosophical or other.
Of course there is a good side to both James Mill and to John Stewart Mill – but there is also a bad side, a very bad side. And it must not be hidden away – because it did great damage.
A liberal of the 19th century "Westminster Review" type (not other types) may have hoped if nothing is objectively true then there is no justification for state attacks on liberty, and may have held that denying everything, including selfhood, is the ultimate freedom – but, in reality, someone who believes that nothing is objectively true is likely to seek the STATE to fill the void (the "myth" of William James, Sorel or Mussolini). Besides the state NATURALLY expands (those who have power seek to use it – the "Dark Side" tempts them) – and if there are no principles to oppose them with……….
And Sir William Blackstone, whatever his intentions were, has in practice helped get rid of the principles limiting the state – by getting rid of all principles limiting Parliament.
"Ah but Paul – Blackstone trusted Parliament to limit the state" – then he was profoundly foolish and also ignorant, not understanding the typical nature of such statutes as the one that Sir Edward Coke struck down in "Dr Bonham's Case" – where it was held that someone practicing a trade without a piece of paper called a "license" could not be a crime, because it was not aggression against anyone. The fact that the "Royal College" had both King and Parliament backing it, being irrelevant. If this is a crime whose person or possessions has Mr Bonham attacked? He has attacked no one – so him not buying a "license" CAN NOT be a crime.
Ditto the "Stature of Labourers", seeking to enforce serfdom, and a thousand other wicked, and unlawful, statutes of Parliament.
But it is more than this – the decline of the respect for Parliament, and there has been such a decline, has not led to the restoration of the principles of the Old Whigs – far from it.
The worship, and "worship" is the right word, has been transferred from Parliament and Congress, Prime Ministers and Presidents – to an ideal state, the public power, "the people" which will impose "Social Justice" (the opposite of real justice – to each their own). Modern "political philosophers" say that they DO believe in liberty, in freedom against elected politicians – but, it turns out, that their "rights" are like the "rights" of the French Revolution, under the mask of "freedom" terrible tyranny, plundering and murder. The words "freedom" and "liberty" chanted endlessly – but divorced from their foundations.
When American judges, and the university class generally- the Harvard Law School, the Imperial German loving Johns Hopkins, the Frankfurt School of Marxism Columbia and on and on, first started to turn against the Old Whig principles of the Founding Fathers they first held that rights and natural law were nonsense (perhaps nonsense "on stilts") – beasts such as "Justice" O.W. Holmes jr were open friends of Harold Laski and other totalitarians, they held (Buck V Bell) that a screaming woman, who had committed no crime, could be held down and cut up by the servants of the state – because they judged her to be "inferior". But at least such beasts did not pretend to serve "freedom" "liberty" – they were open followers of Thomas Hobbes and other such creatures.
This sort of "judge" did not, for example, in the gold confiscation and voiding of contracts cases of 1935, hold that they were serving "liberty" and "freedom" when they tore up the Constitution of the United States.
Today Blackstone may be discredited – few would pretend that Parliament, or any other institution of government can do anything it likes. But the Old Whig principles that he helped to undermine have not returned – instead the forces of evil (for that is what they are) have taken the words "freedom" and "liberty" for themselves, and use them to force politicians to expand statism (tyranny) even when they do not wish to do so.
The book shelves groan with books on legal thought that seek to twist the concept of liberty 180 degrees – using it as a justification to destroy liberty, to expand the size and scope of government. The "intellectuals" can get away with this because the old principles have been forgotten – even the very word "right" is no longer understood to be a limitation on government power (under the natural law principle of to each their own – as the late Ayn Rand put it "hands off"), rather a "right" is now seen as an invitation for government to intervene – to enforce "anti discrimination" doctrine (that to "discriminate" is another way of describing freedom of choice, the right to associate or refuse association, is forgotten) and to give people their "rights" to goods and services at the FORCED expense of others.
This is because the old principles are out of sight and forgotten – and, however good his intentions may have been, Sir William Blackstone was one of the people who started to bury them.
Anti big government people often make the assumption that life gets worse as government gets bigger. It is true that if government grows, in size and scope, things will not be as good as they could have been – but life can still, for a while anyway, get better for most people.
Take my home town of Kettering, Northamptonshire. Government started to grow here in 1875 (in other towns it was after 1870 – but we did not vote for an Education Board here), with the rise in national taxation and the increase in functions pushed on local government by the Disraeli Act of 1875. Yet life still got better here till at least 1960 – and government was big indeed by then.
I am not just talking about real wages – but general life also. For example Wicksteed Park (the first amusement park in the country) did not exist in the 19th century – but it was a national institution by 1960, although it has sadly declined in recent years. Also ordinary people were better dressed in 1960 than they were in the 19th century (when some children did not even have boots or shoes – even in a town famous for making them) – although, again, one could hardly call people in 2014 well dressed, or well behaved.
And the buildings were fine (or at least O.K.) – the destruction of so much of the "town that Gotch built" did not really begin till 1960. And the town was not too big with endless housing estates eating the fields and the bluebell woods. It was still the Northamptonshire of the writer H.E. Bates and others.
In 1964 there was full employment and historically high wages, no welfare class (of any size) unlike today. But people were also mostly well behaved, polite, well dressed and so on.
"That is trivial stuff Paul" – perhaps. although I do not think so, but there is rather a lot more.
I have already mentioned the lack of a welfare class in 1964 – there were people who could not take care of themselves, but there were not millions of healthy working age people who had never worked and never would. Is this not important?
Also non state institutions were vastly less unhealthy in 1964 than they are now. "Oh Paul is going to obsess about the Churches again" – actually I was thinking of the family.
In 1964 most people still lived in stable families – now we do not. Is this not an important change – and not for the better.
In 1964 the fertility rate was positive, we could replace ourselves as a nation – now it is negative, we can not. We have vast immigration instead of our own children.
In 1964 most shares were still owned by individuals (there was no Capital Gains Tax) and the City of London was matter of self employed stock brokers and stock "jobbers" (wholesalers). The brokers worked for individual clients who still owned most shares (the "Aunt Agathas") and stock jobbers worked selling shares for the companies.
Now most shares are owned by institutions (hired manages in control of other hired managers – with real owners a thing of the past) and private investors are taken to the cleaners by faceless organisations in a post "Big Bang" GOVERNMENT DOMINATED City of London.
Even Ulster (Northern Ireland) was quiet before 1964 – the main news stories there were about lost cows and the latest attractions at Port Rush. Not how the IRA (Sinn Fein) was running the government and destroying education.
Indeed education was much better in England and Wales also – Grammar Schools were common, intelligent children could get a good education (at the expense of taxpayers). Qualifications meant something – not like now. And the universities were only just starting to over expand.
And the United Kingdom of Great Britain and Northern Ireland was an independent nation in 1964 – not a slave of the European Union, we were are own masters.
Also the British armed forces were still a real force in 1964 – the Wilson-Healey gutting of the Royal Navy and Royal Air Force (reducing Britain to a token power dependent on others) had not yet happened. Britain was not a joke – we still mattered. Yes in spite of Suez, and in spite of the pathetic "Super Mac" we still mattered. And there was no conscription – getting rid of conscription was about the only good thing that "Super Mac" ever did.
And there was still freedom of speech and freedom of association – the 1965 (and all the later Acts) had not yet been passed.
"We get it Paul – in 1964 everything was wonderful – everything now is awful".
No I am NOT saying that.
The advance of technology in the last 50 years has been a good thing (yes I find the internet time consuming – but the advance of technology has been a good thing) – and that has enabled higher living standards, for most people.
And government in 1964, although much smaller than now (the Welfare State has exploded since 1964), was still vastly too big – unsustainable big in the long term, all the seeds of our present and future societal crises were already long planted before 1964. Government dominated health care and education and old age provision (at least for the poor) and none of these things is good – although the old traditions of the pre government dominated schools and hospitals (the grammar schools and hospitals were still private in the 1930s) still dominated the government services of 1964, teachers, nurses and doctors still acted like dedicated professionals (not dominated by endless government rules and union practices).
However, it was a good country in 1964 – it was a better place to live than Britain had been in (say) 1874, when government was vastly smaller.
I am not saying that if government had been kept to the level, size and scope, it had been in 1870 or 1874 that Britain in 1964 would not have been an even better place – of course it would have.
But Britain in 1964 was an O.K. ish place in 1964 – in ways we are not now, and this should not be forgotten.
In 2012, Sophie Peeters moved to Brussels to undertake a film course and found herself shocked by the casual sexism and street harassment she encountered, to such an extent that she made a film about it "Femme De La Rue" (well what did you expect a film student to do? write a poem?)
In the film, she walks round her neighbourhood wearing jeans and a cardigan and then a knee-length summer dress and flat boots. A hidden camera shows that both times, men – from youths to groups of older men on cafe terraces – leer, cat-call and proposition her. She is called "whore", "slut", "bitch" and told that she looks up for sex. One man follows her saying she should come to his house or a hotel room. She says she gets this kind of comment eight to 10 times a day.

Belgium film on street harassment strikes a chord across Europe
I will not attempt to condone or underplay the harassment she encounters and documents, as it is both genuine and repulsive, but as per typical in these sort of circumstances, the cries of "something must be done" becomes music to the ears of politicians on the make, especially in Belgium where they are still embarrassed by their inability to form a government after the 2010 elections.
So instead of saying to the local police commissioner "Oy! Matey. Do your bloody job" and clampdown on this unacceptable behaviour using the numerous existing laws on the statute books that these people are in breech of, they come up with the usual "all encompassing solution" which is like a sledgehammer to crack a nut and threatens massive intrusions into free speech that are already under attack. (more…)
All most people know of Warren Harding is that he was corrupt – and all that most people know is wrong.
Although certainly no saint (he was a drinker, and a poker player, and a lover of women) Warren Harding was not personally corrupt – and his Administration was actually less corrupt than most. For example vastly less corrupt than the Administrations of Franklin Roosevelt or Harry Truman – and Hollywood and the rest of the media (and academia) do not present those Administrations as corrupt.
That is all the space I am going to waste on the so called "Ohio Gang" or "Tea Pot Dome" – people who are interested in such stuff can read a good biography of Harding (clue to what a good biography is – the author will not pretend Harding's papers were destroyed, which is the standard "Progressive" excuse for not reading the documents and writing "history" based on nonsense instead). 0r they can just look at the chapter on Harding in the "Politically Incorrect Guide to the Presidents" by Steven F. Haywood (a good historian).
I am interested in other matters………
Today it is a common place among Republican politicians to talk of rolling-back-government – reducing the size of government, cutting taxes, getting rid of regulations, and reducing government spending.
Some (alas not enough) of these Republicans actually mean what they say – but WHERE DOES IT COME FROM?
Republicans have not always promised smaller government – Republican Presidents (and Governors, and Senators and Congressmen and …..) did not use to make a big thing of this. One does not hear this in the speeches of Lincoln, or in Chester Allan Arthur. or Harrison, or Taft…….
These were not the big (peacetime) government fiends of Rothbardian fantasies – but they were not roll-back-the-state types either.
So where does it come from? This modern identification of the Republicans (sometimes correctly – sometimes NOT correctly) as the make-government-smaller party?
Basically it comes from one man.
WARREN HARDING.
Essentially Warren Harding created this role for the Republican Party – he invented the approach, he created the modern Republican Party (or the good bit of it anyway).
In his campaign against the Administration of Woodrow Wilson, Warren Harding created all the themes we know today.
When you hear (for example) Senator Rand Paul speak (on civil liberties, on government spending, on ANYTHING) you are really hearing WARREN HARDING – Republicans did not tend to speak in this way before him (he, basically, invented it).
And Harding lived the dream – he made it real. And he was faithfully followed (in his policies) by his Vice President Calvin Coolidge (President Calvin Coolidge) and his Treasury Secretary Andrew Mellon (anther viciously libelled man).
As the British historian Paul Johnson (in "Modern Times" – long before Ron Radash's work on Harding) pointed out – Warren Harding actually did the things he said he was going to do.
He sincerely believed in Civil Liberties.
Warren Harding utterly opposed the politics of the Socialists and Communal Anarchists (the Red Flaggers and the Black Flaggers) – but (ironically) they were physically safer under Warren Harding than they were under the Progressive Woodrow Wilson.
President Harding would not tolerate people (even Reds) being sent to prison on trumped up charges – and if he found them already in prison, he would pardon them to get them of prison.
"The bastard must have done something. so what does it matter what we got him for – after all he would murder millions if he had the chance " may appeal to nasty people (nasty people including, perhaps, ME), but it horrified Harding.
Harding was also horrified by censorship – or any other aspect of the Police State.
He was denounced as Pro German (totally false) for defending German Americans from persecution – German thinkers (as far back as the 1700s) may have worked on aspects of a "Police State" (see Hayek – "The Constitution of Liberty" and "Law, Legislation and Liberty"), but this did not mean that German Americans deserved to be persecuted by an American Police State.
And Warren Harding defended black people also.
He was born in 1865 the year of defeat for the Slave Power – and Warren Harding did not have the "benefit" of a Rothbardian education (based on the writings of Woodrow Wilson – oh yes that was the source Rothbard based his stuff on) that the Civil War was not "really" about slavery. The old men that Warren Harding knew in Marion Ohio had fought in the Civil War – but what did they know, they were not academics…..
The continued persecution of blacks (above all lynching) disgusted Warren Harding to the core of his being – and he denounced the persecution.
The Democrats (and some Republican Progressives, for racism was a Progressive doctrine then, indeed it still is – accept now Progressives stir up blacks against whites, rather than whites against blacks, the switch came in the 1960s and was quite sudden, but as the Dems control the media they got away with it ) replied by spreading rumours that Warren Harding was part black himself (a lie) – but he carried on.
Unlike Woodrow Wilson (a German style trained intellectual [see my first comment] – and "scientific" racist), Warren Harding (a man with little formal education) held that prices and wages should be set by supply and demand – not government orders.
This is why the crash of the post World War One Credit Bubble in 1920-1921 was not like the crash of 1929.
The crash was just as bad (although the Progressive academics have put it down the "Memory Hole") but Warren Harding was not Herbert "The Forgotten Progressive" Hoover (a man who became conservative after he left office – having never been so before). Harding did not prevent wages and other prices (a wage is a price) adjusting to the crash – instead he got government out of the way (so mass unemployment was not a feature of year-after-year – as was under Hoover-Roosevelt,  for most of Roosevelt's policies were started by Hoover).
So what did Warren Harding do?
He cut the Federal government in half – from about six billion Dollars spending in 1920 (a peacetime total) to about three billion Dollars only a couple of years later.
Yes prices were falling – but you try and do that. Cut government spending – dramatically.
No "fool" or "lazy man" could do what Warren Harding did - roll back the government on civil liberties, on taxation, or regulation, and on government spending itself.
That is what "normalcy" (and, contrary to ignorant leftists, "normalcy" was the correct American English in Webster's dictionary when Harding was young) meant to Warren Harding.
Civil Society – where individuals and private associations (commercial companies, churches, clubs, fraternities……) could exist and thrive – and not have every day of their lives spent looking over their shoulder for the commands of the state. A government limited by the Constitution of the United States - in which Warren Harding believed (unlike Woodrow Wilson who despised it) and even physically saved (the physical document was falling apart when he became President – Warren Harding had preserved).
This (his belief in liberty, in property rights, in limited government)  is why the collectivists hated Warren Harding (and still do) – and that is why they (the academic-media-cultural elite) have spent more than 90 years spitting on his name.
This weekend, I had the pleasure of visiting a friend in the historic city of Münster, Germany – a university town with 50,000 students and famous as the site of the Rathaus where the Treaty of Westphalia was signed ending the Thirty Years' War in 1648.
What was not so appealing this weekend was the protest outside the historic Rathaus by a group of supporters of the Palestinians shouting quite frankly repulsive and anti-Semitic slogans while the Police looked on with cold eyes.
The rally had been called by the "initiative of the Friends of Palestine in Münster". Bearing banners and pamphlets to express their protest the participants were mainly women with headscarves and children.

They also chanted slogans such as "child murderer Israel" or "mass murderer Netanyahu". In a pamphlet stated: "We do not hate the Jews, but the terrorist state of Israel."

On the opposite side of the street, under the arches, demonstrated a significantly smaller group of people for self-defense of Israel.

Heated verbal exchanges on the principal market (in the original German, translated into English by Google Translate)
It was quite clear to all concerned that the Police were not there to ensure the demonstrators didn't get out of hand (as occasionally happens with environmental and Neo-Nazi protests in Germany), but rather to ensure that the demonstrators themselves were protected from the public at large.
Marcus, my host for the weekend, is an educated native German with a doctorate in physics who spends his summer vacations building village schools in rural India, so not exactly a little-Deutschlander, but he was outraged to the point of anger that the "…spectre of the anti-Semitism of the Nazi era…" (his exact words) should be displayed again on the streets of Germany.
I pointed out to Marcus that if the right to free-speech means anything, it means the right to make statements which others may find offensive and that there is no general right not to be offended.
"Quite correct", Marcus said, "but if the protesters had been ethnic German's rather than immigrants, then they would have been dragged away by the Police at the first anti-Semitic outburst" - this was in relation to an anti-immigration protest at the Münster Rathaus some months ago, which the police had broken up for exactly that reason.
"The police are afraid to intervene because they are Muslims" was Marcus' final word on the matter.
Over recent weeks there has been a great harrumphing of editorials about how the usual internet bogeymen (pedophiles, drug runners, terrorists and alleged assassins) have been utilizing Tor to carry on their business away from the prying eyes of law enforcement agencies. This has recently been brought to a head with the arrest of Eric Eoin Marques the owner/operator of "Freedom Hosting" in Ireland, the main provider of Tor hosting services. (more…)
The Daily Wail is up in sanctimonious arms about a "notorious internet troll" they have exposed.  Why is the Wail's blood up?  Because uncompromising blogger Old Holborn verbally slaughtered a couple of sacred cows that no one dare tell bad taste jokes about.  And it caused the twatterati to descend into a frenzied virtual lynch party.
This is the face of one of Britain's most notorious internet trolls.

As his alter ego Old Holborn, Robert Ambridge is responsible for a series of vile and offensive Twitter posts that have brought him death threats.
Apparently death threats are not as vile and offensive as taking the micturation out of a taboo subject.
Thousands were outraged when Ambridge, who appears on his Twitter page with his identity disguised by a plastic pig mask, tweeted about the Hillsborough Stadium disaster. He posted a picture of two overweight women and claimed 'this is what crushed the 96'.
Whereas the millions who have never heard of OH and are too busy having a life to tweet probably couldn't give a stuff.
Moral outrage.  The most persistent bane of our post normal society.  A dangerous threat to free speech.  Is OH offensive?  I'd say yes, having read his blog on and off over the years.  Sometimes I agree with what he says and on other occasions I think he's a git.  I wouldn't issue a death threat to shut him up though no matter how offensive his remarks.  Nor would I be insisting that "something must be done" to silence him.  If he wants to be a git making gittish remarks designed to annoy authoritarian gits then that's his prerogative.
Ambridge, 51, a recruitment consultant and father of six from Braintree, Essex, also made disgusting comments about the murder of James Bulger which deeply upset his mother. But an unrepentant Ambridge claims people who are offended by his comments have only themselves to blame.
Yes, being offended on the behalf of someone you've never met has become a full time sport for the perpetually affronted brigade.  My reaction?  OH is being a controversial git gleefully poking what he knows is going to be a hornets nest to provoke a reaction.  The adult thing to do, if you are offended by him, is ignore him, not give him the oxygen of publicity.  But it seems we are not dealing with adults and that includes the journalists and the police.
'It is not my responsibility what other people find upsetting. I didn't target anyone. I didn't send an email. They chose to read what I wrote. If they don't like it, they should turn it off. I don't care what people find offensive.'
Because making crass remarks might be offensive to those prone to outrageous bouts of herd apoplexy but it is not an offence in law.   It certainly isn't a hound 'em and flog 'em out of gainful employment offence.  Oh wait, yes it is.  People have the right not to be offended.  By anyone or anything.  Anywhere or at any time.  And the authorities will be there to mollycoddle wounded feelings and take names.  All in the name of social inclusivity and clamping down on naughtiness to make the world a better place for everyone who is happy being a touchy-feely herdthink drone.
Justifying his tweet about Hillsborough, he added: 'This is dark humour. People might not like my humour but I think it is funny and it gets a chuckle.'
So where is all the outrage about taking the mickey out of fat people?  Don't they deserve to be treated with sensitivity?  Well no, because it is socially acceptable to believe that all fat people are greedy and stupid and deserve all the derision they get even when they don't. Unlike Merseyside's tragically deceased they aren't a protected species when it comes to verbal abuse or offensive jokes.  Either everyone is a target or none at all.  I'll settle for everyone because none at all is a tyranny.
This week, the self-proclaimed 'satirical terrorist' will seek to justify his vitriolic internet posts in an ITV documentary called Fear And Loathing Online.
Well yes, OH can be quite loathsome when he puts his mind to it.  However the only fear in this particular Wail story comes from the death threats of the morally outraged.  OH hasn't actually threatened anyone, merely piddled them off.  Not the same thing.  So how come he's the only pariah in town right now?  Have the thousands of column inches dedicated to our not bombing Assad being wrong, wrong wrong, finally run out of steam?
Ambridge agreed to be filmed without his pig mask, although his face was not shown. But The Mail on  Sunday traced Ambridge to his dilapidated Victorian home in Braintree.
Matthew Hopkins journalism at its most odious.  I'll assume that howling mobs, pitchforks and flaming torches were optional extras not available on expenses.
With an appearance more akin to Coronation Street's hapless cafe owner Roy Cropper than a cutting-edge satirist, he initially denied he was Old Holborn.
So what is a "cutting-edge satirist" supposed to look like?  And who wrote the benchmark specifications for the physical appearance of one?  Fatuous journalism at its most infantile.
But later, speaking at the wheel of his battered Toyota vehicle, gap-toothed Ambridge said: 'I am there to upset the apple cart. It is a form of entertainment. Trolling is like putting a fishing line in a shoal of fish and seeing what you can get.'
I can see a pattern building here.  It's not just OH's opinions that are low rent.  His dilapidated house, battered Toyota and crooked teeth are proof that the Wail is dealing with a lowlife scumbag who needs to be put in his place – six feet under if the Twatter mob get's its way.  He hasn't broken the law.  The fact that he's overweight, white and middle aged isn't a criminal offense although the Wail is trying to build a case on those shifting sands of stupidity.  He has six children.  So what?  I am led to believe he has worked hard to bring them up instead of relying on the state to do it.  That isn't a crime either.
Ambridge worked for Alchemy Recruitment in Braintree until April, when he was first outed as a notorious online troll. Following his Hillsborough comments, people bombarded the firm with phone calls and threatened to burn down its offices.
OH is a blogger who stirs the smelly stuff with a big spoon and then muses upon the fruits of the fall-out.  He's certainly not everyone's cup of cha.  Internet trolls lead the unsuspecting into an ambush which isn't OH's modus operandi at all.  But then, given the inferior, poorly informed and lacking a shred of research dross that passes for journalism these days, I suppose the confusion is understandable.  After all the newfangled  blogging media has only been around for a decade and a half – give or take.  Not enough time for the legacy media to catch up.
However, the ancient practice of witch-hunting is alive and well in the twenty-first century.  Anyone associated with someone possessed of free speech a penchant for controversy an aversion to political correctness the Devil's evil forked tongue and tail is fair game and must be purged for the good of society. Don't you just love this popular resurgence of a deeply unsavoury hysterical historical custom?
An investigation was launched by Essex Police over tweets relating to the Boston bombing, as well as the Hillsborough disaster and the Bulger murder. Ambridge has since left the company.
So are they going to investigate everyone who believes OH is entitled to his opinion no matter what sacred cow he's tipped?  Are they also going to investigate the death threat tweets and emails he and his former employer received?  If not, why not?  Or is it now legal and acceptable to put someone in fear of their life for upsetting the herd or because they employ someone who has?
Police said the CPS is considering whether to pursue a case of criminal communication through social media involving a 51-year-old man from Braintree.
Clearly there is a certain demographic that never found its way out of the infants playground.  It is not the job of the police to nurse bruised sensitivities and pander to the chronically indignant.  Their job is to investigate, arrest and charge actual criminals, not harass people who upset the mores of self-indulgent, social puritans. So OH caused offense with his crass and very black humour.  So what.  It's not like he was caught red-handed molesting kiddies, drowning kittens or mugging old ladies for their bingo money.
I was disgusted by the people who happy-danced at a certain old lady's funeral a few months back.  But they were entitled to do that. I was content to mutter "gits" at the TV screen.  I certainly wasn't motivated to hunt them down and send them death threats on behalf of the bereaved family.  Nor do I expect the police to "investigate" the matter as a possible "hate" crime.  Yes there was hate.  A lot of it.  But was it a crime?  Hardly.
*  It seems the Wail doesn't know the difference between a controversial, politically incorrect blogger and a troll, notorious or otherwise.  Hence, Trogger.