Jumped the Shark
A prominent civil rights activist in the United States is facing investigation after her parents accused her of falsely passing herself off as black.

Rachel Dolezal, 37, has been the head of the local branch of the National Association for the Advancement of Coloured People, or NAACP, in Spokane, Washington, since January.

But her parents have now told US media that Ms Dolezal is in fact white – and has spent several years deliberately misleading the public and her colleagues about her race.

"She's our birth daughter and we're both of European descent," her father, Larry Dolezal, told Buzzfeed. "We're puzzled and it's very sad."

"Rachel has wanted to be somebody she's not. She's chosen not to just be herself but to represent herself as an African American woman or a biracial person. And that's simply not true," her mother, Ruthanne Dolezal, told KREM news, a television network.

White woman 'posed as black civil right leader' in years-long deception
Colour me somewhat unsurprised really, given the nature of positive discrimination in the United States. Economics 101 says "incentives matter". She was unlikely to get this cushy role with a black advocacy group given her WASP background so, bit of frizzy hairstyle and a darker shade of fake tan and voila! an instant ethnic – the worlds first race transplant.
I suppose it shows the progress of the civil rights movement, less than a century ago "race deception" was all the other way and solely to avoid discrimination.
The question then becomes whether she will resign or be fired? and if so on what grounds? I say this because it sounds like she would have a decent claim for dismissal on the basis of racial discrimination.
Who said the Americans didn't do irony?
Bloody Hell! that is from 215+VAT per person. I must have joined the plutocrats without knowing. You get parking but somehow the idea of depositing a 51 plate Vauxhall Corsa is…
An ex of mine was a cox for the University team. She managed to sink a 20,000 quid boat and that was in '94. She had forgotten her specs and the Nottingham University boat she was coxing plowed through the Nottingham Trent University boat utterly wrecking it. The two colls have a boat race. E was not miss popularity after that. Nobody was hurt seriously but she quit the coxing by mutual consent very shortly after.
A couple of weeks ago I bought a lighter in the Co-op. You'd think nothing of this as did I until I was asked by the shop assistant, "What colour?". Err… I said, it doesn't matter and asked why are you asking? I got a reply that he'd been threatened by a geezer who he'd given a red lighter to. This guy objected most strongly because he was a Manchester City fan and their colour is blue. Their arch-rivals, Manchester United, play in red.
That is tribalism. I got thinking about this when I saw something about the election and some bloke who's great grandpappy had known Keir Hardy and was of a "Labour Family" and was now writhing in coils over "defecting" (his term) to SNP.
The World is mad.
So, Prince Charles has been to Washington DC (as have I) but whilst I flew steerage in an American Airlines A330 (and had to change at Philly – the most confusing airport this side of Mars) he went in style. He went on a chartered A320 configured as a private jet that costs GBP250,000 a hop. Or approx. 800 times what I paid (hard to say exactly – there were several hops on that hoilday which included Key West). Well, I guess it evens out because he got to meet Obama and I trogged the Smithsonians until my feet hurt – badly. He got a gong for his tireless crusades (or whatever) on the environment. He almost certainly clocked more CO2 than I can manage in a fecking lifetime. And then he delivers a lecture on the environment… Because the A320 normally carries just over about 160 passengers and not just a dickhead and his moll.
But that's OK because it is only the little people who deserve to be taxed out of the air and not the nobs and he is a nob in every sense.
As countries around the world have demonstrated, those with little in terms of mineral resources, like postwar Japan until the stagnation, can operate vibrant economies, but equally, those with significant mineral resources can be destroyed by bad economic policies. This seems to be the fate of most of South America except Chile and to a lesser extent Brazil.
The government of Venezuela may be blaming "The American capitalists and their Saudi running dogs" for the fall in the oil price, but even at the peak of the oil price they were spending the economic bounty of their oil as if there was no tomorrow – well, it looks like tomorrow has arrived.
Now the average Venezuelan can't even afford to screw in safety, regardless of the thoughts of Pope Francis on the matter.
In Venezuela, a 36-pack of Trojan condoms now costs $755 at the official exchange rate. That's the price being asked on the MercadoLibre website, where Venezuelans go to buy goods in short supply.

A 36-pack of condoms in Venezuela now costs $755 at official rates
This is arguably one of the more bizarre stories I have read. Ever.
A small Jewish ultra-Orthodox newspaper in Israel has found itself in the spotlight after digitally removing Germany's Chancellor Angela Merkel from a photo of this week's Paris march.

World leaders had linked arms to march in Paris against terrorism after Islamic extremists killed 17 people. At the march, Merkel stood in the front row between the French president, François Hollande, and Palestinian president, Mahmoud Abbas.

But readers of the Hamevaser newspaper's Monday edition didn't know, as she had been digitally removed, leaving Abbas standing next to Hollande. Israeli media joked it was meant to bring Abbas closer to Israeli premier Binyamin Netanyahu, who was standing nearby.
And why? Why? because of XX-phobia. Seriously. They also took-out the EU foreign affairs supremo and the Mayor of Paris.
Within the insular ultra-Orthodox community, pictures of women are rarely shown, due to modesty concerns. In Jerusalem, ultra-Orthodox vandals frequently deface buses and billboards with advertising deemed to be immodest.
Now if Chancellor Merkel had been strutting her stuff in a sling-shot bikini and heels and nowt else then OK but this is the original photo…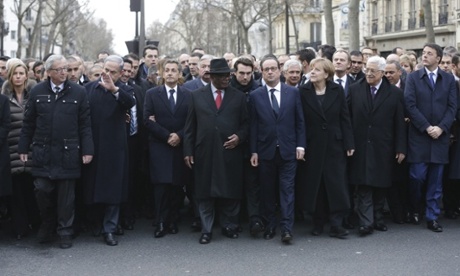 Now I'm no fashionista but that is a modestly dressed woman. And she is also the German Chancellor so she ought to be there. God knows what Abbas was doing there but France and Germany are best buddies these days (thanks for small mercis – I mean we don't want to go through all of that yet again).
Binyamin Lipkin, editor of Hamevaser, said the newspaper is a family publication that must be suitable for all audiences, including young children.

"The eight-year-old can't see what I don't want him to see," he told Israel's Channel 10 television station. "True, a picture of Angela Merkel should not ruin the child, but if I draw a line, I have to put it there from the bottom all the way to the top."

He also said he did not want to tarnish the memories of the people killed in the attacks.

"Including a picture of a woman into something so sacred, as far as we are concerned, it can desecrate the memory of the martyrs and not the other way around," he said.
I am lost. There is no way anyone could take that image as sexually provocative (I assume that was this loon's point). I mean it ain't Miley Cyrus. And in terms of the "family paper" schtick don't families tend to have female members? Call me old-fashioned but I female relatives. I don't think that unusual. And what the flying hellskis is the desecration stuff about? These people weren't martyrs. They were just unlucky by and large. Could have been me, could have been you. This site has republished the Motoons of Doom. And in what way Chancellor Merkel takes away from the loss is beyond me. Also one of the dead was a female French cop. If anyone was a martyr she was dying in the line and all.
But this is only sort of about sexism. I mean it is but there is more. The massacre was about freedom of the press and an Israeli paper chooses to Photoshop inconvenient truths like the sex of the German Chancellor out. OK, fine print what you want but don't doctor photos and then go on about martyrs for press freedom.
Or is it just plain sexism and they object to a female heading a major nation? Is it that simple? Get over it. We did with Maggie when I was a little kid.
What century are these folk in? I mean really? Moshe Dayan fought for this?
PS. And as someone from a culturally Christian background the idea that an image of a woman is a desecration is just weird.
Yeah I have. A few days ago I saw "The Battle of the Five Armies" in 3D IMAX. It is the end of journey for me. The end of a journey of over 30 years. The thing is I saw Galadriel (kicking ass) several stories high and in 3D but I know Galadriel is a character portrayed by an Australian woman called Cate Blanchett.
But I am not entirely unique in my scepticism. Despite our "Age of Austerity" we do this…
If like me you get all your news from the Cornish Guardian, you may have spotted an article announcing that the Fairy Investigation Society is conducting a survey. They're seeking information from anyone who has seen any pixies, elves or sprites — all on a strictly anonymous basis. I rang the man behind the research and he told me that in just three months, he's had over 400 replies. An example: 'I was walking down a field in Scotland when I noticed a winged being leaning up against the side of a sycamore tree. He was as tall as the trunk, maybe 15 feet.'
From The Spectator. H/T Infidel753 (he's on the sidebar). Read the whole nonsense. It is champagne bollocks. We actually, in my country, in the C21st have a "Fairy Investigation Society". I am not making this up. MSG to the fairy-hunters. Your quarry doesn't exist.
Either these people are bombed out of their boxes (and I want what they are on), raving mad or taking the urine. One of 'em suggested that slug pellets are an effective form of mythological pest control. Another reported seeing gnomes in small racing cars.
Yes, they are doing a "Fairy Census" in Cornwall. Jesus wept.
That is a Dr Who ref, not a political one…
The KKK (you know those fun-lovers) have decided to embrace diversity…
The Ku Klux Klan opens its door to Jews, homosexuals and black people in bizarre recruitment drive
White supremacist group Ku Klux Klan is re-branding as 'the new Klan'
Founder wants Jews, black people, gays and those of Hispanic origin to join
Rebranded 'Rocky Mountain Knights' claim to stand for 'a strong America'
New recruits will have to wear the white robes, masks and conical hats
I think this is either real or I am going mental.
Two church pastors and a 90-year-old man were charged for feeding homeless people in Fort Lauderdale, Florida, under a strict new city ordinance that virtually bans private groups from handing out food.
Yes, you read that right. In the Bible loins (below the Bible belt) it is very difficult to help the homeless off your own bat.
Despite a looming court date and the threat of being fined or jailed for violating the ordinance, the men said they plan to feed more needy later Wednesday.

Homeless activist Arnold Abbott, 90, and Christian ministers Dwayne Black of the Sanctuary Church in Fort Lauderdale and Mark Sims of St. Mary Magdalene Episcopal Church in Coral Springs were handing out meals in a park on Sunday, two days after Fort Lauderdale's ordinance took effect, when police approached them with their sirens flashing, Black said. The three were issued citations and face a $500 fine or 60 days in jail.
So, why?
The ordinance — the fourth one that Fort Lauderdale has passed this year concerning the homeless — requires groups handing out food to homeless to be at least 500 feet away from residential properties. It limits feeding sites for homeless to one in any given city block, and prevent feeding sites from being within 500 feet of each other.
Ah, property prices! The Golden Calf of our generation. A clear example of wishing the homeless, the destitute and generally undesirable away from the shining citadels. There is of course another reason which I shall get to later.
Black said the threat of police charging them again won't stop him and Abbott, who runs a non-profit organization called Feed Thy Neighbor, from handing out meals on a public beach Wednesday evening.

"As a Christian, it's pretty clear," he said. "Feed thy sheep. Take care of them."

Fort Lauderdale police said they were aware of Black and Abbott's plans, and said they had clashed with Abbott before.
Don't they have murderers, rapists, burglars and such to deal with without nicking a 90 year old man and a couple of pastors for trying to help the interstitial?
Legislative action criminalizing the distribution of food to homeless people is picking up speed across the U.S. More than 30 cities have passed or are considering such bans, with advocates arguing that allowing ministries and others to hand out meals aggravates homelessness by luring homeless people away from city-run programs.
See what I mean by "interstitial"? These are folks who walk between the raindrops of government provision. Mr Abbott and his friends are doing an unalloyed good. What the authorities hate more than anything is singular acts of kindness that aren't regulated and controlled by them. The fact that people are acting directly to help the utterly potless matters not a jot to them. I mean for the sake of God himself how the fuck can giving food to the poorest of the poor off one's own bat be a crime? Of course it is if it shows up the dismal state provision for the sham it is and if it depresses house prices* for those who can afford a house. Talk about "I'm alright Jack" and pulling up the last ladder on the Zeppelin and twirling your mustache and cackling.
For myself I am disgusted that this is happening in a state I know well (from Panhandle to Key West) which I always found friendly and quite Christian. There is nothing Christian about this law. Surely, by any stretch of the imagination on a public beach giving away food isn't wrong. It may be illegal now but legality is not the same as right or wrong. A naive person like me would regard a public place as somewhere you can do what you want (within reasonable law) but you decide to commit an act of charity there you find out who really owns it and it ain't the people is it?
This is a fundamental libertarian issue. It is a marriage made in Hell between the house price fetishists and the statists – or modern politics as it's otherwise known. It is hideous.
It is wrong. When charity can no longer be spontaneous we have lost something too precious to be measured.
All quotes from NBC but it's been all over the 'net.
*I seem to recall one of the major causes of the Great Depression of the '30s being kicked off by a Florida housing bubble.
Now, don't call me old fashioned here. I am a liberal kinda guy butt (ho ho!) this shocked me…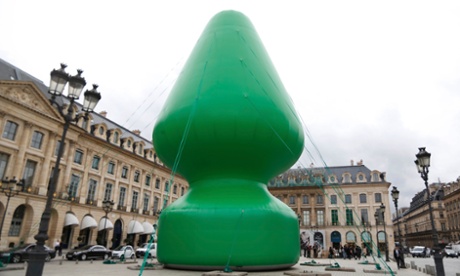 This is Paul McCarthy's "sculpture" "Tree" exhibited (this stuff writes itself) in France. The only reason I spotted that was I first misread the link as "Paul McCartney's butt-plug in Paris".
Anyway, it lacks any artistic merit other than the capacity to shock. Now, I note I said I was shocked but not in the way Paul McCarthy meant. It isn't "challenging", it's just dreadful. It's shocking in a way because it is so boring.
Marcel Duchamp produced "challenging" art a hundred years ago and some of it was quite clever. This is more sh'ite than an Ayatollah. Things that I am specifically interested in such as maths, physics, aviation and computing have made tremendous advances in the last 100 years but art seems stuck in a rut of childish petulance where you can win a Turner Prize (God knows what Turner would make of it) for puking into a jiffy bag and mailing it to The Pope.
So, this "installation" was vandalized by outraged Parisians and whilst I deplore vandalism I can kinda see where they were coming from. Oddly enough the first Dada exhibition actually provided a hammer for visitors to smash the exhibits. That was new and dappy and kinda cool back then. It has now become very serious. It has caused Mr McCarthy to do this…
McCarthy decided against re-erecting the Tree, which was deflated by security officials, and has instead planned an artistic response. Paris Mint spokesman Guillaume Robic said the chocolate factory was already up and running and had been producing 250 chocolate Father Christmas figurines, each with a butt plug, each day for the past few days. Eleven rooms where the figurines are stocked have been made dark to resemble a long tunnel. Visitors will be able to move through the halls, where there will be a strong smell of chocolate, and where a video and "aggressive sounds" will be playing. "It's a dream, or a nightmare," Robic said. "It reflects the aggressiveness that McCarthy felt after what happened in the Place Vendôme."

The chocolate factory – a reproduction of a 2007 installation by McCarthy in New York – is operated by pastry makers who have been trained to perform by McCarthy.
Alas dear reader you can't expect a butt-plugged choccy-wocky Santa in your Christmas box for they go on sale in January.
I shall re-iterate I am not a philistine and I like some modern art but what really shocks me is the capacity of these folk to get away with shock for the sake of shock. More than that the capacity of certain people to fall for it. I mean it isn't shocking in the way intended. I mean you can buy a butt-plug in Anne Summer's on Market Street in Manchester. There is nothing shocking about McCarthy other than he is considered shocking, provocative, challenging etc which he isn't any more than a small child having their tenth tantrum of the day.
I might go out with my watercolours and paint landscapes of the Peak District. Now that would flummox the critics.
But before I go… I have to mention the "comedian" Jimmy Carr who apparently at a music awards do recently made some off-colour remarks about Oscar Pistorius. Oh, they were edgy! They just weren't funny. To commandeer a phrase from the Duke of Wellington, "In comedy there is no substitute for being funny".
Like Paul McCarthy (with his admittedly hilarious strop on (or should that be strap-on?)) Jimmy Carr has jumped so many sharks he ought to be working at Sea World.
It is the same thing. I am not offended except by the fact I am expected to take offence. If your only trick is to offend the Daily Mail and Nick ain't leaping at the bait I couldn't give a…
…I could have used some "bad words" there but what is the point?
I mean these are people who shouldn't get a fuck in a monkey whore-house with a truck-load of bananas.
From The Guardian…
Two men accused of being involved in a terrorist plot in London were covertly recorded as they apparently prepared to buy a firearm, the Old Bailey has heard.

A listening device in their car recorded them using the codewords "sausage" and "sauce" to describe items they planned to purchase, the jury was told.

Their intentions appeared to become clear, however, when one of the men, Mounir Rarmoul-Bouhadjar, asked: "What's the sausage?" His alleged accomplice Erol Incedal replied: "Bullets."
One of them had been a-jihadi-ing in Syria. They were clearly on the radar but if you can't remember a code consisting of two words…
It reminds me of a bunch of Hamas-types who blew themselves with a car-bomb because they refused to live on "Zionist Time". Fortunately they were in the middle of nowhere.
It took the IDF etc a while to figure that one. Well, it would wouldn't it?
UKIP defectors are the sort of people who have sex with vacuum cleaners':

He didn't put it quite as boldly as that, as you can see from the article, but that is certainly what he meant. I love the Conference season, don't you? So full of deep incisive analysis.
Methinks the Tories are very rattled at this point.
The retailer of "naughty things" Ann Summers has apologized over a lingerie range named "Isis"…
Not to be confused with…
London (AFP) – Adult retailer Ann Summers apologized Saturday after launching a range of lingerie named Isis — but said it did not support jihadists in Iraq and Syria and had no plans to withdraw the line.
Well, that last bit is reassuring. Not, I suspect, that Ann Summers would be especially welcome in the New Caliphate anyhow. But why apologize? An Ann Summers spokeswoman stated the decision had been made months ago and Isis is an ancient Egyptian fertility goddess which seems a fairly reasonable name for female intimate attire. I mean it's not something a lady would wear to play football in is it*?
It remains on sale which is something, though why apologize anyway? It is admitting that "ISIS" (or "IS") have stolen part of our culture and mythology. It is bizarrely conflating something to cover your er… with a bunch of arseholes. And that is my point, really. Are ISIS vile? Are they dangerous? Yes. Are they the greatest threat facing the USA as President Obama recently stated? Are they Hell! They are just a bunch of ragged-assed renegades on the create. They ought to be treated with the disdain they deserve and not treated like Sith Lords. By regarding them as Mordor itself we are their best recruiting sergeants because it gives spurious glamour to a collection of honour-free tossers playing at jihad.
As an aside they are currently carrying out "judicial" executions, crucifixions and amputations and "encouraging" children to watch (like Alton Towers in the sand). Of course they would regard the ladies pictured above as depraved. I have a rather different standard for depravity.
On the plus side I am reliably informed that Russia has banned such frivolous under-garments on spurious grounds of causing minge-rot or something so it would seem we are annoying the right people.
Pooty Poot and the Sand People – sounds like a dreadful band from the '50s.
*No I haven't seen that video. Curse you internet!!!