Now, don't call me old fashioned here. I am a liberal kinda guy butt (ho ho!) this shocked me…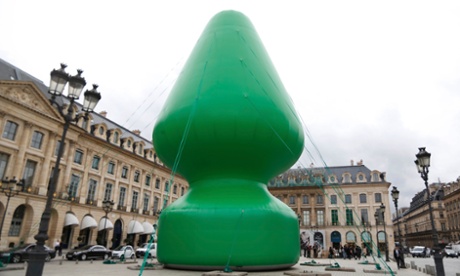 This is Paul McCarthy's "sculpture" "Tree" exhibited (this stuff writes itself) in France. The only reason I spotted that was I first misread the link as "Paul McCartney's butt-plug in Paris".
Anyway, it lacks any artistic merit other than the capacity to shock. Now, I note I said I was shocked but not in the way Paul McCarthy meant. It isn't "challenging", it's just dreadful. It's shocking in a way because it is so boring.
Marcel Duchamp produced "challenging" art a hundred years ago and some of it was quite clever. This is more sh'ite than an Ayatollah. Things that I am specifically interested in such as maths, physics, aviation and computing have made tremendous advances in the last 100 years but art seems stuck in a rut of childish petulance where you can win a Turner Prize (God knows what Turner would make of it) for puking into a jiffy bag and mailing it to The Pope.
So, this "installation" was vandalized by outraged Parisians and whilst I deplore vandalism I can kinda see where they were coming from. Oddly enough the first Dada exhibition actually provided a hammer for visitors to smash the exhibits. That was new and dappy and kinda cool back then. It has now become very serious. It has caused Mr McCarthy to do this…
McCarthy decided against re-erecting the Tree, which was deflated by security officials, and has instead planned an artistic response. Paris Mint spokesman Guillaume Robic said the chocolate factory was already up and running and had been producing 250 chocolate Father Christmas figurines, each with a butt plug, each day for the past few days. Eleven rooms where the figurines are stocked have been made dark to resemble a long tunnel. Visitors will be able to move through the halls, where there will be a strong smell of chocolate, and where a video and "aggressive sounds" will be playing. "It's a dream, or a nightmare," Robic said. "It reflects the aggressiveness that McCarthy felt after what happened in the Place Vendôme."

The chocolate factory – a reproduction of a 2007 installation by McCarthy in New York – is operated by pastry makers who have been trained to perform by McCarthy.
Alas dear reader you can't expect a butt-plugged choccy-wocky Santa in your Christmas box for they go on sale in January.
I shall re-iterate I am not a philistine and I like some modern art but what really shocks me is the capacity of these folk to get away with shock for the sake of shock. More than that the capacity of certain people to fall for it. I mean it isn't shocking in the way intended. I mean you can buy a butt-plug in Anne Summer's on Market Street in Manchester. There is nothing shocking about McCarthy other than he is considered shocking, provocative, challenging etc which he isn't any more than a small child having their tenth tantrum of the day.
I might go out with my watercolours and paint landscapes of the Peak District. Now that would flummox the critics.
But before I go… I have to mention the "comedian" Jimmy Carr who apparently at a music awards do recently made some off-colour remarks about Oscar Pistorius. Oh, they were edgy! They just weren't funny. To commandeer a phrase from the Duke of Wellington, "In comedy there is no substitute for being funny".
Like Paul McCarthy (with his admittedly hilarious strop on (or should that be strap-on?)) Jimmy Carr has jumped so many sharks he ought to be working at Sea World.
It is the same thing. I am not offended except by the fact I am expected to take offence. If your only trick is to offend the Daily Mail and Nick ain't leaping at the bait I couldn't give a…
…I could have used some "bad words" there but what is the point?
I mean these are people who shouldn't get a fuck in a monkey whore-house with a truck-load of bananas.