My parents taught in Zambia in the early '70s. My Dad told me this story so respect to Infidel753 for reminding me of one of the less reported candidates in the Space Race. In the early sixties space was the big thing. Yuri had taken a trip and newly independent British colonies wanted a piece of star pie. They were young, new nations brimming with confidence so why not? Ladies and Gentlemen, I present you with the utterly quixotic Zambian Space Program!
One of the problems of looking for the bizarre in history is that, after a while, you've read everything before: mermaid funerals in the Hebrides, tick; bats used in bombs against Japan, tick; Roman legionaries in China, tick… But then every so often something comes along that is fresh and that has completely escaped your notice and suddenly life feels worth living again. That, anyway, was the emotion that Beachcombing had when he read last week about Zambia's attempt in the early 1960s to enter the space race. Beach writes 'Zambia' that would be wild enough, but actually this was Edward Makuka Nkoloso, a Zambian high school science teacher who became head of the National Academy of Science, Space Research and Philosophy, an organisation that naturally EMN founded.

His ten Zambian astronauts and a seventeen-year-old African girl are poised for the countdown. [EMN] said: 'I'll have my first Zambian astronaut on the moon by 1965. My spacemen are ready, but we're having a few difficulties…we are using my own firing system, derived from the catapult.'
NASA clearly were wasting their time with a 7,648,000 pound thrust Saturn V when all you really needed was a lacky band.
Mr. Nkoloso continued: 'To really get going we need about seven hundred million pounds. It sounds a lot of money, but imagine the prestige value it would earn for Zambia. But I've had trouble with my space-men and space-women. They won't concentrate on space-flight; there's too much love-making when they should be studying the moon. Matha Mwamba, the seventeen-year-old girl who had been chosen to be the first coloured woman on Mars, has also to feed her ten cats, who will be her companions on the long space flight… I'm getting [the astronauts] acclimatised to space-travel by placing them in my space-capsule every day. It's a 40-gallon oil drum in which they sit, and I then roll them down a hill. This gives them the feeling of rushing through space. I also make them swing from the end of a long rope. When they reach the highest point, I cut the rope – this produces a feeling of free fall.'
Mars with ten cats. Wow! Just wow!
You think I'm making this up? Here's the video…
The bizarrely ironic thing is Zambia is actually close enough to the equator and with predictable weather to be a reasonable launch site. Glorious insanity! The Youtube link, alas, contains some frankly deeply racist comments which is a shame because I tend to think it's straight out of the glorious tradition of mad men in sheds. So Mr Stephenson has invented a moving kettle and Messrs Wright have cracked the control problem for heavier than air flight! A miner and the owners of a bike shop! Hell's teeth John Logie Baird's experiments with TV involved a bizarre assemblage involving a hat-box and a coffin lid (quite how one obtains a coffin lid without the rest of the coffin is an exercise I leave to the reader). Philo T Farnsworth who invented TV in the electronic sense was a farm-boy who got his ideas about scan-lines from plowing a field. We are all enriched by such impossible dreams and sometimes they work and everything changes. Do you know what the Wright's spent to get Flyer I airborne? Have a guess!
They spent roughly $1000 of their own money. Their biggest competitor Samuel Langley (director of the Smithsonian) spent $50,000 of US Navy money and this happened…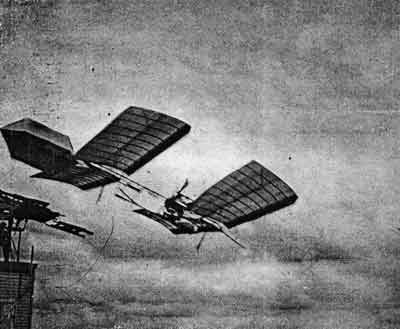 Now you don't have to be a student of aerodynamics to tell that is not going up. The pilot took an early bath in the Potomac. Langley had invited all the press. Epic fail.
Shortly afterwards…
And the rest was history. The Wright's didn't have the press. Their craft was spotted by the local life guards and a "curious teenager". Langley's Aerodrome was launched from a $10,000 steam catapult and the Wrights bought $4 worth of timber from a local yard to build a launch rail.