I know this is late. I know I should have written about his death but I didn't. I didn't know what to say. So I shall say what I can now for it is the least I can.
Patrick Moore didn't make me look to the stars exactly but he fostered on these rainy isles (really unsuited to star-gazing) a sort of culture that said "This is cool!" despite not exactly seeming "cool" and perhaps that is the true measure of his greatness. You didn't even need to watch him once a month on the graveyard shift on the BBC (a slot I always thought perverse because isn't that when you ought to be looking at things vastly more magnificent than anything the BBC could ever imagine?)
So I did physics at university and then astrophysics because it was sort of in the culture and Patrick Moore had put what is "up there" in that culture more than anyone. On the odd clear night here I look at the stars though I haven't lugged my Tal-Mizar out for a while. It's an ex-Sov Newtonian Reflector*. I shall do but again Cheshire is a terrible place for optical astronomy. For doing it by radio, mind…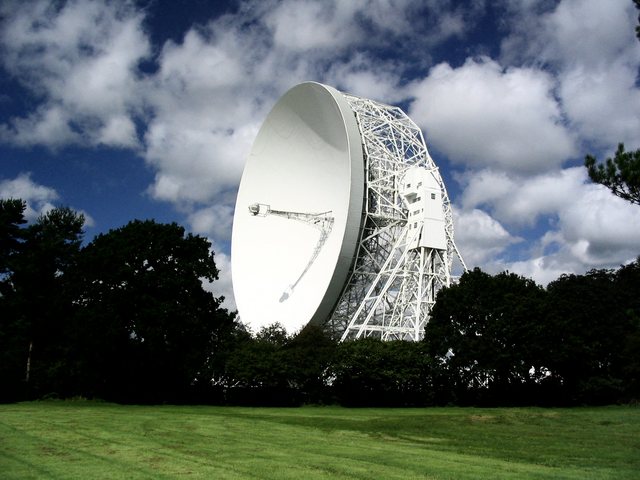 I was there recently to see Professor Dame Jocelyn Bell Burnell FRS FRAS give a talk. Magic stuff. Just a few years ago they were going to close Jodrell Bank down**. I seem to recall that was for want of GBP3.5m which to government is the mere dust of the valence. I mean how many diversifying out-reachers can you hire for that? How many plasma TVs for MP's second homes and what miniscule proportion is that of a far from astute submarine? But it was saved and partly this was down (I reported this way back) to a small kid who was most upset. He wanted to be an astronaut you see. My point with this digression is that the Daresbury Synchrotron was closed but the other major physical science facility in the county remains and indeed is going to be the HQ of the SKA.
Now that is cool! and the animus against the closure, the love we feel (and I have to admit I speak as a Cheshire resident who loves the stars) for things like Jodrell Bank (the talk I mentioned was packed) is in no small part due to Sir Patrick. He enthused generations of small (and not so small) children to look to the skies. To see more and be more and think more. When I applied for funding for an MSc in astrophysics at London (which I got!) my tutor (who was working on wave-guides) wished me all the best and wrote a glowing reference*** and said, "I've always thought astrophysics the true engine room of physics". That from a physicist of a semi-detached discipline (to say the least) says a lot. Astrophysics is the alpha and omega and always has been. Just conjure the names! You know them all. From the old Greeks to modern Geeks (…and old Arabs and Hindus, and Chinese and…) astrophysics has been instrumental in the development of everything that separates us from the gutter***. Except it is much more than just navigation and stuff isn't it?
And nobody on this planet over the last hundred years or so did more to promulgate this and get people caring about it than Sir Patrick. No writer or broadcaster did more to create public interest in what might possibly be regarded (by numpties) as rather abstruse science unrelated to their "real" daily lives. This is of course a myth – we are intimately bound to the stars in so many ways. The belief this is abstruse is, to be polite, complete Horlicks. Obviously. The material results of our species star-gazing over the millennia are obvious. We'd all be living in a mental Somalia and as a torch-bearer of the enlightenment that the study of the night sky brings we have been lucky to have been blessed with an advocate so brilliant as Sir Patrick.
How he managed this is fascinating. Partially of course it was his sheer erudition and joy in the subject he wrote voluminously about and partly it was because he was a true scientist (both the US and Soviet space-programs used his lunar maps) but also because "The Sky at Night" was probably about the only broadcast science show in the UK that didn't (doesn't?) talk down to you. And that really mattered. I recall, not long-since, seeing Brian Cox trying to explain the second law of thermodynamics by building a sand-castle in Nambia. Quite why the Coxster couldn't have built one in Scarborough is utterly beyond me. Certainly, I learned my Stat Mech in Lecture Theartre B1, Nottingham University. And that was the Moore difference. He told it how it was and did so brilliantly without the pointless air-miles and the moodily lit staring into the middle-distance shots whilst wondering how his hair looked. Sir Patrick clearly never gave a toss how his hair looked – it usually looked like his 'stylist' was "Through a Hedge Backwards", Brighton. He was just there and talked and explained. He was the exact opposite of cunning stunts pop-science with the endless re-caps you see today. Frequently he would also be talking to real top folks in the field. His "machine gun delivery" (ref every MSM obituary I read) was the true antithesis of most pop-sci which is narrated at the rate and style of a wearisome parent trying to explain for the umpteenth time to their toddler that eating mud is not a good idea. We are not all mud-eating toddlers. In short watching Moore made me (and so many others****) feel clever. To feel that the skies were ours to take rather than drowning like the slowly boiling frog in the idea that science is for other people and needs to be explained v e r y s l o w l y to the great unwashed. Perhaps, in that context, it is not surprising that when de-mobbed from the RAF he turned down a scholarship at Cambridge and just plowed his own furrow. But what a furrow!
I could write so much more (no pun intended) but a long and wondrous life has ended. I'd be here all day if I mentioned Sir Patrick's other achievements or his (generally excellent) political beliefs (particularly on his falling out with the Liberal party over them hitching their wagon to the SDP). But…
There is one thing though that sums up this thoroughly irascibly brilliant British iconoclast that I must mention. At the 1981 Royal Variety Performance he played the Sex Pistol's "Anarchy in the UK" ("God save the Queen and the fascist regime…") on xylophone. That is the mark of a man. And not just any man but an Englishman.
So farewell Sir Patrick! You were unique and brilliant. And I have no idea who can now fill your shoes. You are greatly missed already. And this in a terrible year for spacer deaths. Join Neil and Sally out there in the star-spangled firmament. Hit c Sir! (He also once played a duet with Einstein – Patrick on piano and Albert on the fiddle).
Sir Patrick Alfred Caldwell-Moore CBE, FRS, FRAS (4 March 1923 – 9 December 2012)
Though my soul may set in darkness, it will rise in perfect light;
I have loved the stars too fondly to be fearful of the night.
* I was away when my university house-mates received a large, heavy, old-style wooden case (think "Raiders of the Lost Ark) from Russia with stenciled Cyrillic on it. They knew I was doing physics so wondered what I'd got. And yes, enriched uranium was on the discussion list. Thankfully this was well before 9/11 or I'd have been extraordinarily renditioned.
** As a listed building it was going to become a "heritage site". "Look at what we used to be able to do kiddies!" Like the pyramids or some-such. Actually Stonehenge is perhaps more appropriate but the Pyramids of Giza are aligned with Orion.
*** The Oscar Wilde ref is implicit.
**** As a young girl the astronomer Heather Couper wrote to Moore asking if it was OK to be an astronomer if you're a girl. She still has the letter she received back saying, "Not a problem" and encouraging her greatly. I seem to recall she spent some time working in Top-Shop and then though bugger this for a game of soldiers and got into Leicester University. Last I heard she was a professor at Gresham College, London.