I scored 5.98 on "right" and 6.47 on "libertarian" which places me firmly in the "Right Social Libertarian" camp. To be honest I actually thought I would come out as more socially liberal but the quiz does state that on social matters it is pretty much aimed at Americans. For example the one question on gun-control is firmly framed in terms of the Second Amendment. I'd love to be able to legally own a gun but not particularly to engage in an armed insurrection but just because shooting stuff is cool and popping a cap in a crim's ass is cool as well. Perhaps more pertinently my "social liberalism" is very much of the "don't give a toss" variety. I mean I'm 35 and married (to a woman) and as far as I know I've been straight for all those years* so I can't get that het-up about gay marriage either way.
Interestingly, the quiz also shows an average score which is much more economically to the left of me and slightly more socially liberal than me. Hmm… I'd be more interested if it showed some kinda scatter-graph. I am curious about how attitudes to things relate. Now that would be very interesting because as it stands the test is ultimately somewhat crude. Example. There is a question about a "state language" and immigrants having to learn it. Well, how do I answer? I dunno. While obviously folks planning on living here ought to learn English I don't think that is a matter for officialdom. It's just common-sense. I mean what sort of job can anyone do in a foreign country if they don't speak the language? It's essentially self-regulating or should be. And there's another one which caused a little head-scratching for me, "It does not make sense to understand the motivations of terrorists because they are self-evidently evil." Well, I think it does make sense to understand the motives of terrorists. Many lefties would agree but for a very different reason. I have plowed my way through The Qu'ran (when I could have been reading Terry Pratchett and actually enjoying it) to understand what the likes of Mohammed Atta were motivated by. That is understanding in the Sun Tzu sense. It is not empathy which is what I suspect that question was driving at. I understand Islamic terrorism in terms of a logical structure going back to the Qu'ran and hadith but that in no way implies that I approve of it or "feel the pain of the Ummah". I don't because whilst it is a logical structure it is one built upon absurd (and evil) axioms.
Anyway, take the quiz. It's flawed but it ain't too bad and I am curious how you lot score.
These are my full results…
My Political Views
I am a right social libertarian
Right: 5.98, Libertarian: 6.47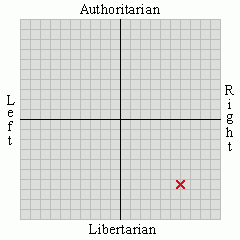 Political Spectrum Quiz
My Foreign Policy Views
Score: 4.7



Political Spectrum Quiz
My Culture War Stance
Score: -3.33



Political Spectrum Quiz
*I have been known to dance very camply to Suede but that's not exactly full-on cock 'n' bum fun now is it? How do you not dance camply to this? I am though "lesbian curious" but isn't everyone?