I was born in 1973, in Newcastle. There are worse places to be from. Much worse. Mogadishu springs to mind. We Geordies perfected locomotion. They perfected female genital mutilation. I rest my case.
Anyhow, this morning, guess where I was? Of course I was at the war memorial in my little town on the outskirts of Manchester.
I can't stand the vicar for she is a vile moo (as a Quaker Warden I'm expected to be ecumenical and do some outreach and stuff) but the Rev Margaret is a right witch but like whatever… She conducted a solemn and dignified service today. A soldier played the bugle. There were cops there like Barney Rubble tends to break out in middle-class towns in Cheshire on Remembrance Day? I guess coppers died in the Blitz so fair enough if they were there for that.
This is our war memorial…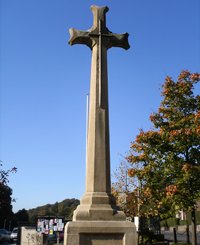 And yes, I wore my poppy. Not with pride but with humility. The first war I recall was the Falklands. That memorial was built in 1920. There is no person alive who fought that but we remember them. Of course we do.
I recall the first British serviceman to die in the Falklands. He was a Harrier pilot and called Nicholas – which is of course partially why I recall it. I don't think he was shot down. I think he crashed in bad weather.
I remember. I remember lots of things.
And I remember today. Every year. Of course I do!