I've recently got back from Amsterdam. Now I suppose it is moderately unusual to collapse into giggles in the Rijksmuseum's section on Dutch 12th-17th Century art but I managed it. This is a detail from the picture that made me laugh…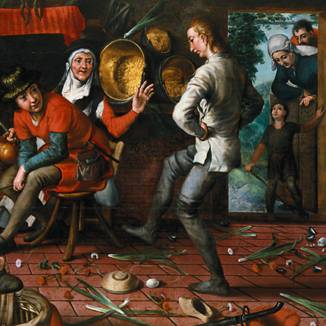 That is a detail from The Egg Dance by Pieter Aertsen.
What made me laugh though was the caption next to it…
At right, in this brothel, a young man does an egg dance to the music of a bagpiper. While dancing, he had to roll an egg within a chalk circle – without it breaking – and to cover it with a wooden bowl. This 'pointless' amusement, along with the dissolute behaviour of the other figures, served as a moral warning against debauchery.
Emphasis mine. I just loved the phrase "This 'pointless' amusement". Sums up life really. Less, seriously though, this was painted in 1552 and I guess you had to make your own amusement back then. The Rijksmuseum does also boast a large collection of impedimenta for drinking games. An inventive (if drunken) lot those renaissance Dutch.
In fact it stuck in my mind so much that upon my return I googled (I think the term is so ubiquitous as to have lost the capital like "hoover" has) the picture. I found this.
Now one of the first things I wondered was why the Rijksmuseum was so sure it was a brothel. To me (and my wife) it just looked like a fairly chaotic party in a home…
At the back of the room an old man is playing the bagpipes. Because of its shape, the instrument often symbolised the male genitalia. In the window is a jug containing a leek, a vegetable of the onion family. A sixteenth-century viewer would immediately have realised that the scene was a room in a brothel. Onions were supposed to be a stimulant. All around lie onion flowers, leek leaves and mussels, which were supposed to have the same quality. It was also thought to be true of eggs, the theme of the painting.
OK, the bagpipes I kinda got already. That's a bit of a classic (cf Hieronymous Bosch)…